Welcome to the page dedicated to our new home (show home)
offices and shop.
located in the Town of Wausau
When Bob and Gloria Rybarczyk of Coldwell Bankers Action Realty found this lot, spring of 2017.
It was perfect for us, in the Town of Wausau off Townline Rd.
Just outside the City, in fact 6 ft of out back lot line and the north side lot line border Wausau proper.
Surrounded by mature pine, with the interior filled with lots and lots of Tag elders and alike.
And few small good trees and small pines here and there.
It took many many exhausting days just to cut in a road far enough to get truck of street.



Then we installed the 30 foot culvert and flared ends (Per Town Rules). Making it a uuuge driveway entrance, 30 foot being the width of your average town road.
Finaly gave that up and rented a 773 BobCat with a forestry head.
With that we had the lot cleaned up to this picture in one day.
A few more nights and weekends of pilling up the resulting mulch and burning.


Was then time for a drive way and we found that we had in excess of 16 inches of topsoil. Being a wet year we ended up with allot of $ in a breaker rock to ruffed in road. My excavation guys (Kurszewski Excavating, Mike and his guys) also brought in sand for the shop/storage garage.
I had the house drawn up the winter before we bought the land.
Once we were looking seriously at lot laid out the lot and drew up the garage.


Our house is built on a hedonically heated slab with 2 inch foam insulation under R15. With Fox Block ICF (insulating concrete form) frost wall and walls, that are R27+. Triple pane windows, and Sun tubes Vs. sky lights. A huge energy heal truss system 16" that allows for the thickest and highest R value one can do all the way out over our 12" thick walls. This is the cross section drawing.
This system is very much the greenest/sustainable/renewable way to build to date. We had a Packers game with less then 20 people (we are all 98 Deg. heat plants) and had to shut down heat, crack windows.
Changes we made that are not depicted in layout areas follows. Laundry/mud room we added cabinets. Packers room we added a service area and changed the 3/4 bath to a built in shower and rearranged to fit. Oh and when we were setting trusses we decided to add sun tubes to kitchen/dinning/formal living, great room vault.
On to building the garage mid to late summer. The garage has it own power service and a full set of stairs to the storage above. This is our storage basically you can think of it as our basement. The down stairs then is Elite's shop heated by pellet stove and an electric one car garage heater as backup.




Mike the Menards delivery guy has a jig for his boom to set trusses.


The full set of stairs to storage room trusses ruffed in.

Poly on floor with top coat!

Drywall and finished entire garage interior.


Around early fall I started working on the side weekends we did not go north laying out house. Generaly getting stuff on hand and prepping to dig and lay out footings. Including the windows, as they go in poured cement walls I wanted to physicaly be able to measure for the openings.

Fox Blocks got delivered direct, except not all fit so Wes picked up the remainder with his newly made trailer. I Mean by that made by hand by Wes. Using the axels and A hitch from our old equipment trailers and fenders and other parts he made at the Tech. See him proudly getting a pic of the maiden voyage.

Then around late fall it was time to dig and start setting the box forms for the footings.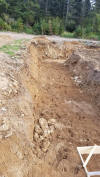 We found right away there was just to much broken shall and bedrock to drive stakes. so we had to use box forms and pack then in. But the house I'm thinking isn't going anywhere.
By this time Mid to end of November we were finishing up the last of the years projects and starting to work a few days (both me and Wes) on the house. And it was time to set the first (lift). That's 6 ft of the total 12 ft. of ICF wall and frost wall we were doing, so poured in two lifts.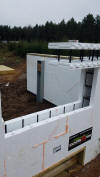 Setting of the electric service pedestal


Then in our spare time again we put in the drainage to grade for the Garage and flood stop drains.
Also wrapping the house in DMX air gap membrane for drainage to keep things dry.
Then time to fill, this is one of those things that makes this kind of house expensive. Unless you can find the one lot (maybe) in the right place that is dead flat and yet just at the top of a rise just the size of the house footprint. You will be filling to the tune of 10-15K.

The race was on for power. Day they set the pole we had snow.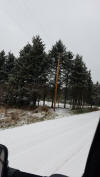 Melted by the time the underground went in.

We set the rest of the ICF walls, prepped the Bunking for windows. Poured the second lift and installed the Ground breaker.
On November 11th, a Saturday, I went and set the 3 season entrance posts... Yes all by my self.




As you can see by the pics it was all day and i was burning daylight.
Trusses delivered we set about getting the gable end trusses ready.

Were setting trusses on December 8th and 9th.






Well drilled Dec 18th.

Then we set about closing up the roof and installing doors and windows.


I've not use tar paper in 20 years. The underlayment we use is good for 6 months and 60 mile an hr winds all by itself. Properly cap nailed that is ! We roof come spring.
Wes went to Arizona for Xmas and if you remember if went well below 0, so i took some time and did just a bit. Got the fireplace in so I could start pumping heat in. And got inside stuff we needed inside.


After the holidays with Wes back and a warm up we finished the valleys and caped the chimney.

Right about then we decided to do the Sun Tubes. Insulation where it was bats and plastic as electrical went in above the ceiling. Then it was getting toasty and the inside sand was thawing and sinking just a bit more!
We then brought in 10 yards of sand to level things back up after the final compacting, and proceeded to hang the drywall. Finish the tube lights and blown insulation in the remainder of the roof (the flat areas) and a bit over the R38 bats in the vault. Running the rest of the in floor to grade drains. Running the underground plumbing, gas and one electric line for island too.




It was at this time I took a weekend off. It was 7 Deg Saturday night and 9 Degrees Sunday night. Yet the place is so energy efficient that with just a electric one car garage heater going it was 48 deg inside an open area of 3500 or so sq ft, when I got there Monday at 7AM.
Next was to flatten the sand, lay down 6 mill plastic (best way to prevent Radon...). Then put down 2" insulation and prepped the in floor tub and 4 Seasons came and laid out the in floor hydronic heat runs.
Time to pour floor. We set up one pour each day, bull float, finish floated then hand troweled. Then the next day formed up for the next and went over the previous pour to scrape with a 20 grit rub brick. Best not to use a power trowel if you want it flat as possible. And we did, as we used glue down vinyl planking and poly on the garage floor. Every little dip and bump would show, every overlap had to be scraped back flat and smooth. Every seam/transition from one to the next had to be perfect.
Next came building the walls in-between the drywalled ceiling and the floor. You can see in the pics before that we have the top plates in place. We then just carefully fasten the green treated bottom plates (don't want to hit any hydronic lines) and then fill in with studs for wall. Then the last of the in wall plumbing and electrical goes in. Oh and the soffit in packer room and AC ducts. Hanging drywall as we go, when we can close off area. also insulating for sound in Master, Laundry, Baths and Packer room walls. Installing Hydronic unit, AC and air to air as well.
We started mudding inside and I was roofing outside in-between snows mid to end of March. First few weeks in April were sanding, texture, primer and paint and poly garage floor. Glass block windows in Master Bath.
So right about here we got floor laid Went up north and got a call someone wanted to by our house. Good offer with no contingencies and no inspections, but we had to be out in a few weeks. Did I mentioned we had just started doing projects and had planed on finishing one room at a time. Moving in slowly, and house would likely get looked at after school lets out and sell before it starts again.
So it was off to the races finishing the project we had started, finishing room by room as we moved in. Oh ya and the well was drilled but not hooked up, and we did not have the tank and mound. Luckily it dried up and we got the mound in the day before closing. However he day of closing we had no water yet, so we went up to 5th wheel for the night. Next day we had water but had to flush with bucket. The next night we had a bath. It would be several weeks until we had the kitchen counter tops, and a shower. I never realized how much cleaner one is showering until I missed it for weeks. Not saying a bath is not nice....
The crux of it all is that photos dry up as in a week after closing we had many commitments again. what follows is just a bit of finishing as we go and interior finals.
Below are final picks There will be more forthcoming.
Some are Panoramic surround walk-a-rounds for Face book, but I compressed them for kind of a 3D peripheral vision Pic Hope they work out.
Fireplace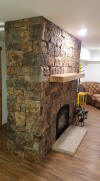 3 season front entrance/porch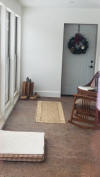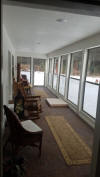 Formal Living, Dinning, Kitchen with Island vaulted great room



Laundry mudroom main coat closet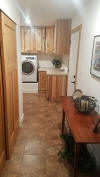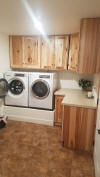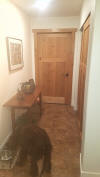 Pantry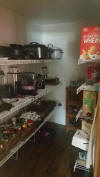 His and Hers office with separate entrance door.


Excersize room with Guest Murphy Bed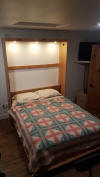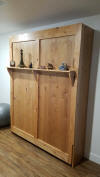 Hallway with art for our favorite places

,with lots of room for additions!
Master Suit
Half path/Master toilet closet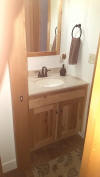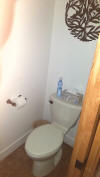 Master bath

with sunk in floor bath and glass block windows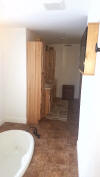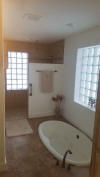 W spacious walk in shower with no threshold, and virtually flat floor. Rain shower and hand held.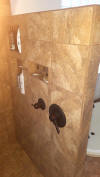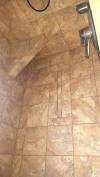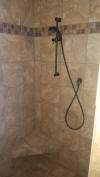 Master closet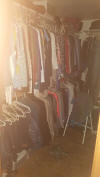 And the master Bedroom with built in wardrobe cabinets.


If this note is still here, then there's more finished pics yet to come! And outside too.