W
illow lane
This was our home and offices for quite some time
With offices
/bonus rooms

that have exterior access for project design meetings with our clients.
4806 sq. ft. of finished living space
built 100% by Elite (plumbing & excavating excluded) as a winter project
less than $
100.00

/sq. ft.

living space
Exterior Details

Completion

summer 2

005

.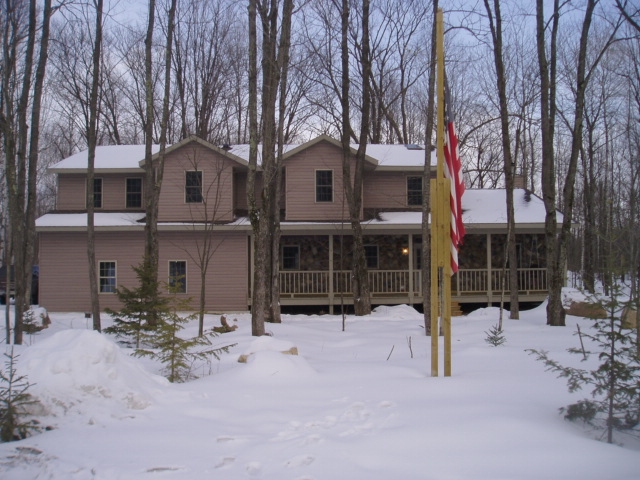 Below you will find elevation drawings, interior floor plans and pictures with narrative of the project as it progressed. Enjoy, come back and look often
....o

h and tell your friends

, e

specially the ones thinking of designing and building

the

home of their dreams.

Front, Right side, Left side, and Rear Elevation Views.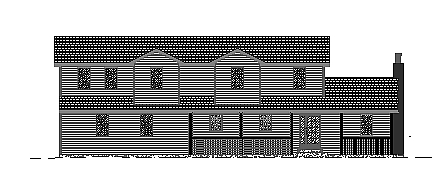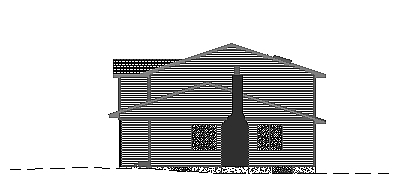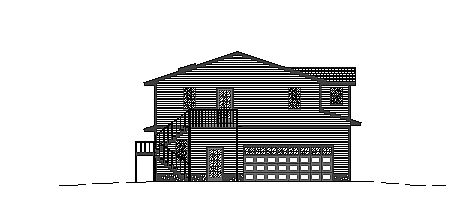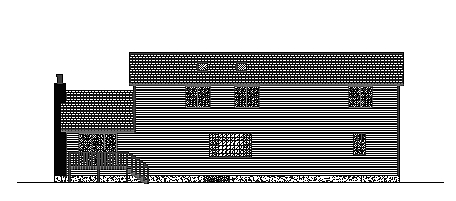 Lot Layout:
2.2 Acres Off of Hwy 29 East just before Hatley turn North on Duncan Rd. about a city block to left on Willow Lane to the East, approximately 2/3 of a mile to our driveway on the right or South R-21239 Willow Lane.
Lot is developed and naturally landscaped with a parking area, garden, large fire pit: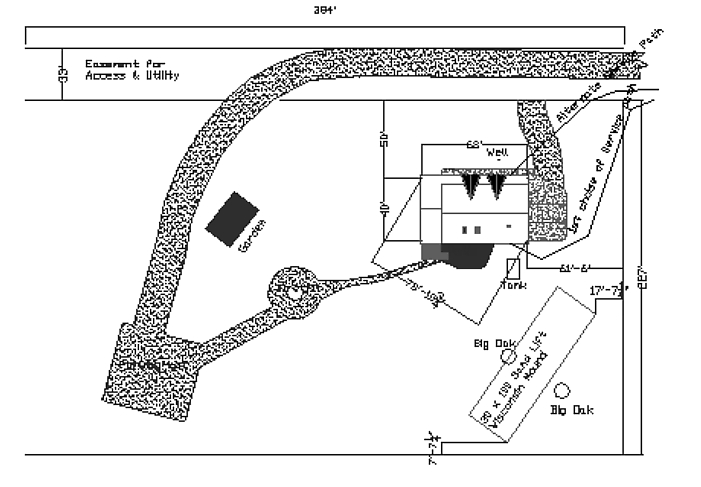 Main Floor Layout - Garage & Storage, Kitchen W/ 6-person eat-in snack bar, formal dining, formal living room w/wood burning fireplace, and half bath: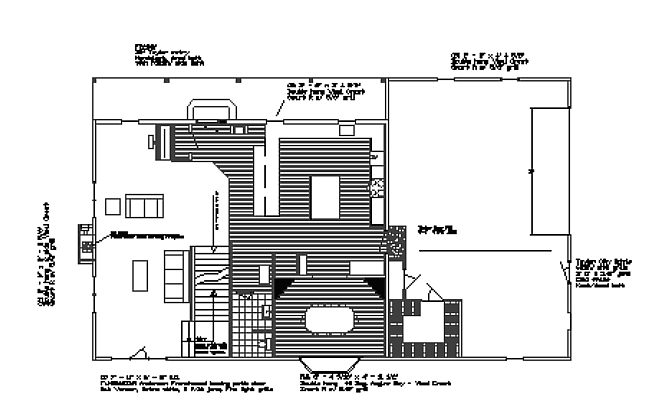 Second Story Layout - Master Suite & Offices, Large "dormer" bedroom, full bath and guest room: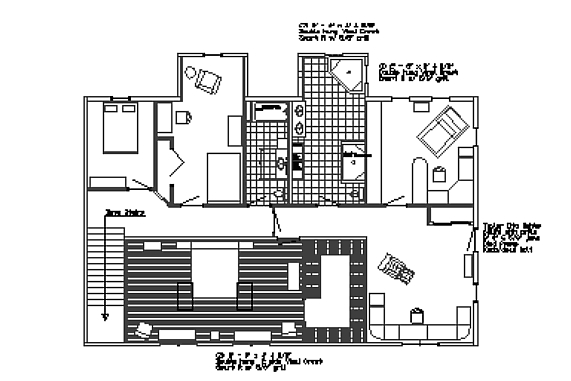 Basement layout - 2 bedrooms, full bath, laundry/storage, "Leinie's/Northwoods" bar area, "Packer" family room & uility: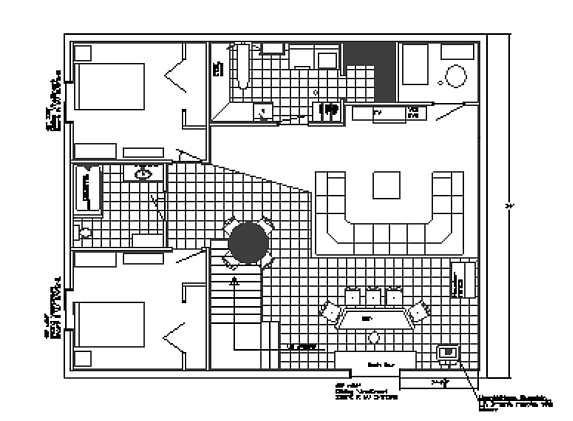 One of the first things we did after clearing and prepping the land for building was to put up the American flag. It's a grand pole over 16' tall flying a huge flag that I've had for years.
You can also see some of the natural landscaping we've begun to do.
The
p

roperty has

alot

of rock on it and we hit this little one while digging. For another

size

reference

for

those of you that have seen our equipment trailer, this rock is about half the size. Since lifting it out of the hole was not an option, we dug it down in the middle of the garage floor area

and

out of our way.
Note in the first pic one can see our new fire pit in the foreground.
After digging we formed up the footings, poured them and then put down cleats to hold the bottom of the Form-Fold insulation wall forms. If you zoom in you can see the outside of the footings are filled with rock, which has drain tile under it running the perimeter of the home. This tile is code and even in the best drained soil is an inexpensive bit of insurance in keeping the home dry.
Fold-Form is a foundation wall system. It is two 2" foam pieces held together with plastic cross members. They stack up very much like Legos. When in place and braced on the interior, the concrete is poured down this middle cavity. The system provides an R-20 insulation value wall. The interior is then finished by attaching drywall directly to the foam, which is screwed to plastic squares in the foam blocks.
The blocks for the system are 1' x3' which provides some design options, like frost walls and full basement walls of varying heights. It also makes it easy to form the lintel over the top of basement windows. The trick is to make sure the walls and all openings are well braced and take your time poring the walls, which was done with a conveyor belt that is guided around the wall by a radio remote control.
We put on the sill plate that is bolted on top of the wall and is green treated for cement contact. Then we put in the main supports for the floor and stairwell and backfilled. Note that the first 6' of wall are water proofed with an "ice and water shield" barrier material and then the exposed walls are treated with a cement colored water proof sealer. The joint at the bottom of the wall and footing was tarred to complete the seal.
We built a small section of wall to install the electric service panels. The silver box to the left is basically an A/B switch lever down and we are using power from WPS lever up and we can hook up to our generator in case of a power outage. Providing we do not have it at a job sight.
A few pics of the main floor support and stairwell from the lower level. Also the first floor finished with the 3/4" glued down Tongue & Grove sub flooring.
The first floor walls were built and sheeted off and the main support LVL that also form the stairwell to the second floor were installed.
The Second floor framing has the LVL for the front porch as part of the structure that also supports a second floor bedroom dormer. This beam is 42' long 16" deep and 3.5" wide and is over 600 LB ............. what a 2 (should have been 3-4) man job that ended up to be. The floor I - Joists were laid and the 3/4 sub floor glued and screwed.
We are using LSL headers over all the small door and window openings up to 5'. Not inexpensive, but they are labor saving and come perfectly square precut to length at 3/5" thick and 11.25" deep. The larger openings for closets, doors and windows are supported by LVL headers consisting of double 1.75" thick x 11.25" deep. The LVL's are nailed together and cut to length. These members along with the engineered main beams and floor joist - makes an incredible strong system.
Next we cut and installed the very spacious 5' wide stairs to the second floor. With a 5x5 landing and a ceiling height of 15' above they are to be quite grand. Note the custom made OSB stair treads made from 4'x12' x 1-1/8" OSB to last forever, glued and screwed to never squeak. We opted to manufacture our own treads instead of using the more common particle board treads which used in most homes today. Why, for strength, and secondly, so that they do not get damaged from a spill or moisture during shampooing. Avoid using any particle board in a home - something I generally advise.
Time to frame up the second floor exterior walls.
Installed the sheeting for the second floor from a set of scaffolding. We then utilized a crane to put up the trusses. Unfortunately, bad weather that day, cold....... then started to snow.
In between the cold and snowy days that allowed us time to work a couple of customer interior projects we have also managed to install the sub fascia gable ends, fly rafters and look outs. Additionally we have been able to sheet off the roof a bit. Also installed and framed up the chimney so we may soon light a fire to warm up.
During a cold snap we fabricated up the drop end trusses and valley sets for the dormers. The first of which we installed on a day that then began to snow. Ended up getting stuck on top of it with snow on the roof and had to sweep a safe path down.
Just a few more days of relatively warm days with minimal snow and wind and then the outside will be buttoned up and we can start to get the house ready for finish work.
Another product you will be seeing more of is Tri-Flex 30 a roofing underlayment. It is attached with cap nails and comes in a 10 Sq. Roll. This product is guaranteed not to rip or blow off in winds up to 60 miles an hour. It can be left exposed for up to six months and will not wrinkle like standard tar paper. For building/re-roofing projects its the only answer, and we will use it on all our projects from now on.
A few items to note: We installed a Fireplace Xtrordinair wood burning unit for the formal living room. It is by far the best unit out there. Safety , how much it heats 2500 sq ft and the look of the fire itself are all unsurpassed. The unit brings in outside (filtered) air for combustion as well as for heating to keep the inside air fresh and clean.
In the Master bath we installed a large fan, that takes an 8" exhaust pipe. Very quiet and then put on a timer switch, the only way to go in a large bath.
We put in a corner garden whirlpool tub for the master bath, note the large seat in the corner.
Special windows like the 45 degree bay for the dinning room, and the large in-swing French style patio door for the living room.

Not much to show but the plumbing, heat and electrical are all in now. Quite a few circuits in this box!! Some interesting statistics, we used 1000' of coaxial cable in this house and 500' of phone line.
A Few Pics of the inside before we Drywall.



And some of the outside before we start the finish work.
We installed a state of the art on demand hot water heater into this home. A product you see frequently used in other countries. Two people can take steamy showers all day long with this system and never run out of hot water.

The drywall technique we use is fiberglass screen tape on all corners, joints and edges. The first coat of Setting Type 90 mud that holds like a rock and limits any chance of cracking. Then two coats to taper, top and feather. We used rounded corners on this home, with a heavy splatter spray, primer and 4 mills of scrubable paint. The windows are all drywall returns, that
will

have oak ledges

.


We selected a #1 Character oak 3/4" wood flooring in 3", 4" and 5" random widths for use in Elite's office and the kitchen/dining room/entryway area. It was then finished with Golden Oak stain and a satin poly.

All of the bathrooms and lower level bar area are ceramic tile, 1/2" Durrock and Bestbacker was applied below the wood floors and surrounds.

The front of the home has a South Western style front porch, that when completed will have a tongue and grove ceiling and River Rock back wall.

We are installing a "vari
e

gated"

C

herry color double 5" vinyl siding, along with Hickory custom order soffit & fascia.

One of the first areas to be finished was the kitchen. Shelby designed the layout and selected deep Autumn Blush Oak cabinets with a "Shaker/Mission" door style, crown molding and under cabinet lighting. We then had a custom 4'x6' open shelf shaker style island made to our design with a Silestone granite top.
Note the formal entryway and attractive and functional desk areas also designed into this open concept main floor area.








A fantastic view from the large bay window in the spacious dining room which has a beautiful arch doorway as you enter from the open concept, LARGE kitchen. The rounded drywall corners which were done throughout make an elegant statement in this part of the house.
Don't miss seeing the cat door next to Shelby's antique "Hoosier" hutch. It leads to a cat size set of steps into an enclosed storage room in the garage where cat dishes and all the mess can be out of sight and "smell".

and after a paint job


The second floor full bathroom features a one piece tub/shower combination and ceramic tile floors.

The main floor "powder room" designed with privacy in mind has a view blocking "knee wall" beautifully finished with an oak ledge.

The "Northwoods" lower level full bathroom also features the one piece tub/shower combination and ceramic tile flooring.

Two identical but mirror image bedrooms in the lower level
The piece'de'resistance "master bath" has a two person corner garden whirlpool tub and large two person dual head shower. His & her sinks, and cupboards creatively designed with electrical outlets tucked neatly inside to hide
hair dryers and

rechargeable shavers. This is one room to which pictures can due justice.

Note that all of the bathrooms are tiled with a matching ceramic tile border in the place of base trim.
The cozy guest bedroom on the second floor, also with a beautiful view, but no closet, just decorative oak pegs, enough to hang clothing for a quick overnight stay.

Another large bedroom on the second floor encompassing one of the large dormers with a great view.
and after a change in color scheme
Our Master Suite area is also located on the second floor with the bedroom featuring his and her skylights, wired with surround sound, ample room to relax on the ever so comfy chaise lounge chair. Along with the "room all its' own" walk in closet and large windows, this is a bedroom one can spend a lot of time in.
Note the custom made entertainment center.

This is the lower level "Northwoods/Leinie's" area which has a custom built solid oak freestanding front bar and built-in back bar. These in addition to the island and the master bedroom entertainment center, were hand crafted by Swita Cabinetry of Mosinee, WI
.

You'll see more of their work in the pics of some of our customer's projects as well. The large daylight window in the back bar area has a bo

u

lder retaining wall/window well outside. A cozy gas stove to warm up the guests until the drink

s

kick in completes the

"

up north

"

look. As an added touch and convenience, the 10" wide oak ledge with built in electrical plugs was specifically designed to display Shelby's lighted Christmas village and runs the full width of this lower area.

On the other side of the lower level is the "Packer" room with full surround sound for the big screen TV and a comfy 10-person green sectional. We also made room for a gaming table that serves as a place to play cards and hold snacks for the big game.

The
five ft.

wide stairs leading to the second floor, an excellent feature we very much enjoy and one we've received plenty of compliments

on

.

At the top, another sky light has provided lots of additional warm sunshine and moon light for this large open space.

Elites new office in working order.

A second office currently also a craft/exercise studio, could be a fifth full bedroom
The formal living room has a Frenchwood patio door that opens to a raised patio again rimed with a bo
u

lder retaining wall. This room has large windows and features a custom crafted & designed oak fireplace mantle made by Elite in the garage shop. The solid oak turned columns were specially made to our print from a "post" shop in Canada. On the far end, a separate sitting area and special place for the piano.


We had time open but it was winter so we plastic
'd

off the porch area and used the heat from the fire place to install the

tounge

&

groove

ceiling and stone front. The first step was to pre-paint the ceiling boards and put up wire mesh for the cement to bond to.

Last was custom building a porch swing. We used Wisconsin Pride Stone, a smaller company with a great product. We installed this for under $20.00 per sq ft.




A few views from the outside:



And after the sidewalk and driveway were in, and the fire pit area in back ablaze.


If you'd like to visit our show home in person, go to the contact page, fill out the requested information and tell us in the message field that you would like to schedule a showing.

Updated, Tuesday, March 12, 2019