Big Big Hole
While doing the kitchen below we noticed the recently installed floating floor was buckling and separating.


Upon demolition we investigated this, which was reportedly sean by the carpet store installers that did floating floor.

Oh my what we found and fixed.








The Carpet store did give our customer the same floor in a glue down Vinyl plank that we installed.


New counter tops, sink, backsplash and we closed off a window between kitchen and laundry, That was there since an addition 20 some years previous. Also rehabbed the old stove hood and fixed the venting

This project is a Condo interior redo- With walls removed, kitchen island reworked. whole house floored in Vinyl Planking. New tops, sinks, lights, shower door....
The Island B4 note that the drawers seating are on the wrong side.
After we switched

B4 there was a small closed off room

We opened up

To be used as dinning, extending space in living room.
Fireplace and service area B4

After

With TV above

A Surround Pic


After we finished the condo above the next door mirror image owner . Asked if we could get her new counter tops and flip her island as well. She did not want to have an overhang for eating, but definitly wanted the coupbords to open on the kitchen side.


A Master remodel
with walk in shower, toilet room, added linen closet...
A second quarter bath, and third full bath upstairs got new top. And we turned stairs from carpet to Oak. Installed Runtel hydronic registers, and reworked and repainted closet, and Bed in master too.
oh My! We find a problem here or there but Geeeez
Pipe with screw hole, was weeping for years.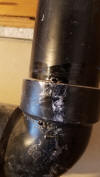 A buried live box, big nono.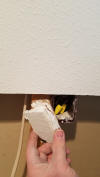 Another buried box and live wire too.
A hidden Junction box in ceiling

An exposed wire on floor in attic space.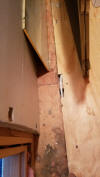 And one of several floor joists that were cut

This one was in the way of where they wanted the toilet when built.
After:
Small 1/4 bath taken in panoramic

Oh My Deux
Knock at the door, cop says were evacuating the Island....
No sump pump, never was, so we put one in PDQ!
Did I mention It's on Pine Island? See the guy sandbagging on other shore?



We got one in just as water was coming up from cracks, pit and running down wall one spot.




This older homes finished basement developed a water problem.
After Demo of walls...

We then cut out concrete along wall for inside drain tile and sump pit

Platon dimple roll to direct water to cut installed drain tile and stone. And cemented in as we went.

After grinding, leveler was time to put down glue and lay Vinyl planking



Stairs was dangerously steep and a head banger. So another goal was to rebuild


Cat door. With Dog doors too like number 25!


An unfinished, bedroom with a pipe in the way.
And a cat door to storage room. Well