Below you'll find: Overviews/Accounts/Chronicles/Narratives
Of Additions, Remodels new construction ....


4 Season Great Room with office below.
Large deck!
B4 pics

B4 & after
Dinning looking out (dark) Not!
old planning desk To New Pantry
In Progress (ICF foundation)
After


Very nice 3 season addition.
with the PVC windows, insulated floor to ceiling and a space heater its close to 4 season.
all wood inside Tiger on the floor Pine car siding walls and ceiling. with step/raised platform between and a patio.

This was a Wausau Home with the center box beam. Which was replaced with an engineered beam much less intrusive. and with some walls removed to make a modern kitchen. With dry walling covering all the old hardboard interior, trim, new stairs and flooring.

Quite the find... Customer downsizing off the water found this German Style home on 9 Acres on the auction block, with pond. Just past the ski hill right off Hwy but hard to find/ hidden away.
We came up with a plan of two and were there and back many times doing projects over a year.
First was to put on a new roof and put in a fireplace BIS Unit (very nice efficient and effective - clean burning unit) that hooked to the forced air system capable of heating the house.
Next was the office entrance addition , down stairs bath expansion with walk in shower cutting in a window and well to make a legal lower level bedroom with custom Quean Bunks. Then turned reframed framed and turned the old garage into a family room.
Then onto the garage: Okay concept started off life as garage with office & storage but ended up very much as a building 3 wide plus storage stall and two deep with back roll up door








To match home!
Next was on to opening up the kitchen, dinning and laundry and upgrading with SS and Stone, tile....
Upstairs bath spruce up to add shower to soak tub, new tile, texture, re finished wood, new fan...
Other things done to boot: Refinished rooms and flooring, whole house fan, added and replaced lights, mud room basement entrance storage... refurbished an all brass original Crapper, painted soffit, trim.... dug out pond.
Then later helped with the sugar shack and added a car port to the as Bernie said uuuge garage

1611 McCarthy Blvd.

1611 McCarthy Blvd.

was

a complete

gut,

remodel

and

addition (virtually new construction) on 1.16 Acres and 161.

6

ft frontage

:
In the City of Wausau

of what was a 600 sq ft house




with lots of character. And a cellar of a basement with stairs to match its 1930's vintage.

First we divided the very large water front lot, into 1611 & 1607 McCarthy Blvd.


Notice that we:
| | |
| --- | --- |
| | Took down half the original garage and added a modern 12' ceiling, with 8'x18' garage door, garage. |
| | Took off the Rock and back face of home, and re-used upon finishing. |
| | Dug out for a walk out, and addition toward water. |
| | Re-divided main floor and built new modern stairway to lower level walk out. |
| | Included a master suit with view to water and direct access to deck. |
| | Raised the roof and turned the roof line with modern energy heal truss. |
| | Added a rain shower, soak tub, Sound insulation, fireplace capable of heating entire home, surround sound in family room and sound to main floor and deck. Dock with power................. |
Particulars:
Three bedroom plus bonus room, 3 bath, master suit

e

, wet bar, first floor laundry……………..
House Dimensions: 36x42 with 3024 square footage
Complete remodel includes; new roof

structure & finish

, wiring, plumbing with Pex Water System, Kolbe & Kolbe double hung vinyl windows & in-swing French doors, front entry door, two- stage forced air furnace & central air, hardwood, ceramic tile and carpeted flooring

and a t

hree stall garage.
o 13 x 30 Master Suite & Bath w/custom Cherry cabinetry & granite tiled floor & counter, custom tiled whirlpool garden tub, his & hers closets,
o 13 x9'9" Main Floor Bedroom
o 15 x 14'9"(Irregular) Lower Level Bedroom
o 14 x 11 Lower Level Bonus Room
o Main Floor Full Bath, custom ceramic tiled shower & glass block window.
o Main Floor Laundry with utility sink
o Kitchen with custom Hickory cabinetry and granite counter & stainless steel sink.
o Lower level family room with walk out to paver stone patio entrance.
o Custom Alder wood cabinetry in lower bath and family room service area.
o Main level wrap-around deck
o Elite Dock
o Circle Driveway
o Security Chimney Bis Ultra high-efficiency low-emissions wood burning fireplace (vented to heat entire home)
o Tankless on-demand hot water heater
o Master, laundry & lower level walls are all sound insulated.
Exterior features Krukowski Stone Quartzite Sandstone Circa 1935, 30-yr Diamond-Kote cement board siding and trimmed with "Merlot" steel soffit

,

fascia

and gutters

. Roof structure has energy heal trusses, R-48 blown-in insulation and 30-year GAF/ELK Timberline shingles. Windows are vinyl double hung "Merlot" exterior /white interior with Low-E glass. Matching leaded stain glass entry and garage side door.
The three-stall garage is

generously

wired with outlets

and lighting. P

repped to be finished and heated with a natural gas heater.
Kitchen has "Ubatuba" granite counter tops with

an

Eclipse integral stainless steel sink and brushed nickel Kohler "Forte" faucet.

Custom

H

ickory cabinets

by Swita Cabinetry feature

pull-out spice racks and accents

.

Flooring is 3-4-5" hardwood

M

aple into the dining/

g

reat room. Dining/

g

reat room

with

four-panel French doors to upper deck is wired with a B

-

channel from lower level sound system. Ducted vents provide heat from lower level wood-burning fireplace.
Master Suite features 2-¼"

"old growth"

hardwood

M

aple flooring, his & hers deluxe closets and triple panel French door access to the upper level wrap-around deck. The bedroom is set up for a DVD stereo flat panel system with B channel for deck stereo sound. The

M

aster bath has his & hers vessel sinks resting on a granite tile top that matches the granite floor, a two-person custom tiled whirlpool garden tub, large shower and hidden toilet. Cherry custom cabinets and accent shelves by Swita Cabinetry. Fixtures are Kohler "Forte" in brushed nickel.
Main floor second bedroom has 2-1/4"

old growth

hardwood maple flooring, and twin closets.
Main floor full bath features a custom tiled rain shower & tub with custom glass block window, matching tile floor and chrome Kohler Forte fixtures.
The main floor hallway has a coat closet and built-in linen cupboard. Also on the main floor is the hidden laundry area with bonus utility sink and wall cupboards.
Lower level service area with tile floor has

c

ustom Alder cabinets by Swita Cabinetry, Elkay stainless steel sink and a Kohler "Forte" faucet in brushed nickel. This area is set up for adding two items (ie. dish washer, ice maker, mini refrigerator or wine cooler). The carpet and tile in this area also include "Warm Wire" heated flooring.
Lower level family room has a "Bis" high efficiency wood-burning fireplace capable of heating 2500 sq ft that has been ducted also to heat the main floor. Wiring above the large

"old growth"

Hemlock mantel

and

is set up for a flat screen TV with a DVR surround sound system with Sub B

-

channel service to the main floor stereo. Family room also features custom Alder wood accents to match

ing

the service area.
Lower level bath has a "

W

arm

W

ire" heated tile floor,

n

eo-angle corner shower, Alder custom cabinetry with

a

solid surface integral lave top. Fixtures and shower door accents are "Oil Rubbed Bronze".
The lower level third bedroom with a large window beautiful river view, has an 8 ft closet and is set up for a computer desk/gaming station and wall mounted flat panel monitor

for a multi media PC or DVR/DVD system.
Also on the lower level is a large bonus room with expansive closet.
The large utility/storage room offers space for unlimited storage and houses the 200 amp electrical service box, Pex

p

lumbing with "

o

n-

d

emand" hot water heater, two-stage forced air furnace and central air.
Large wrap-around deck is constructed from Cedartone treated decking with stain all the way through, custom matched powder- coated "merlot" deck spindles and outdoor speakers from the master suite DVD stereo system.
A custom "Elite-Dock" with bench is constructed from the matching Cedartone decking and "Merlot" powder coated steel footings provides direct access to the Wisconsin River from the 161.66 feet of frontage. This faces the area formerly used for the Wausau

w

ater

s

ki

s

how.
Custom paver patio, walkway, retaining wall and landscape edging.

| | |
| --- | --- |
| | This addition was to add a first floor master, plus basement bathroom, storage & shop. |
Before
&

After
After laying out the addition and cutting a few trees. We then made a temporary entrance over the ditch with retaining wall. Elite had years previously constructed this project. The need was to save it and the black top driveway while allowing for easy productive access for the project.
The next step after getting the excavator in over the temporary entrance was to get out the big logs. Dig and prep the excavation. This project being on Rib Mountain we inevitable hit some ground water. In fact it was coming out the up hill walls of the dig like springs. So after digging we compacted before the water rose as best we could then dug a spot for both effluent and sump pits. got in the ft of 3/4 stone we had planed for both a good foundation base and also to allow sort of a reservoir for the ground water. Which is always a condition to be managed on the mountain.
A temporary pump was used to keep the water in check. Footings were installed using Form-A-Drain a great product to use on any project, indispensable with this kind of a known ground water issue.



After the footings cured a day ICF's were used to form up basement walls, including windows. As you will see in other projects on this page and others it's our standard practice, and a fine product. Giving both a cost effective foundation as no subcontractors are needed. As well as the superior insulating advantages. The fact that no additional framing is then required to drywall off the basement space also adds to its overall cost effectiveness. Drywall is applied directly to the foam, attached to plastic imbedded into the ICF.
A dimpled plastic membrane (Platon) was then used to protect the foundation from groundwater. Note how we extended the Platon over the outside Form-A-Drain to better control any water, diverging it away from the wall to footing joint and into the drain. Then an additional amount of stone was placed to finish off the foundation system.
Floor, wall and roof framing. One note here again, the raw sub floor is a good place to use up old and leftover paints of any type. Giving both protection while building and protection from spills under carpeted areas.
Next the basement floor was poured, plumbing, electrical, heat, ventilation ...systems were installed. Insulation, vapor barrier, and drywall installed. Note that we use fiber tape, not paper. This allows for more drywall mud to penetrate into the joints, while it takes a bit more labor then the process used by all drywall subcontractors, it giving a stronger job and all work is done by Elite.
The exterior siding, soffit, roofing, drywall finish and painting, hardwood flooring, tile, doors, trim, and a walk-in tile and glass block shower were completed. The ICF above grade was finished with modern day stucco, basically plastic in a can, applied just like traditional stucco by hand trowel. All by Elite personnel, no subcontractors required! The home owner retired with both talent and a woodworking shop in the basement did both the Master Bath Cabinetry and the master walk in closet/laundry organizer. His father did the stained glass insert for the counter top cabinet between the his & hers sinks. Then the following summer we went back to put rock and edging around the addition.

| | |
| --- | --- |
| | Took out the old master bathroom, with a tub for this project. Along with a makeup area and a small closet, then built in two new closets and the new master suit bath with tiled walk in shower. |



With all the angles, vaulted ceiling W/ T&G cedar, floating sink vanity W/ vessel sink, large linen and toilet cabinets, large closet and the, accent stone (real), a sound system and the piste de resistance beautiful walk in tiled shower. This is arguable my favorite master of all we have done thus far. Being somewhere in the mix of northwood's, northwest, rustic and modern all while being in a water front home, it would do well in a home I'd own.

| | |
| --- | --- |
| | Up North cottage designed and built half on the fly for my former contractor rep. Scope of project changed start to finish causing many late nights preparing for the next day. Original intent was to frame out garage and set up for finishing the next year. Ended up to be we framed in and closed off entire project for homeowner to finish interior and siding... |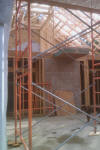 No basement as it is built in a area of 1910 swamp reclamation.
So this is a tornado shelter mid home that doubles as the walk-in master closet.

Front

Back to water

side & back view

3 room Loft with open balcony
very high living/dinning/kitchen vault

Stairs in garage leading to Bonus room storage in garage truss.


| | |
| --- | --- |
| | Very much a complete interior remodel in this project we took out an office, then rearranged and added in may more. We basically went around the space, moving an individual work spaces and temporarily setting up PC/Phone to allow us to demo and frame as we went. In some cases after framing out a room we moved things again to allow limited use of offices while we did work. Empting each again to do final finish work and carpet. All that moving around of office space and keeping IT up was a learning experience and proved to take up significant man power on a daily basis as the IT person was off on extended leave and it fell to Elite to keep operational. |
Just a few B-4 pics:
Work in progress:
These two pics show an area for printers, fax etc. that is both accusable for all offices yet aesthetically hidden.
Same design concept used for this area for locked, fireproof file cabinets.
Interior Views:
Couple pics of a few offices interiors:
This desk area will feature a PC for member use. It provides privacy for paper work and the like, while a sliding panel can allow the end teller to assist, if needed. This area then with a stool for the teller also doubles as an ADA, wheelchair accusable teller station.

| | |
| --- | --- |
| | In this two bath remodel project we added an area over the top of the garage for two toilet closets. One for the master suit the other for a kids bath. Both toilet closets have deep linen closets ,the masters also opens into an added walk in closet . These areas were added in under the existing roof line, with some additional framing and structural work. The areas were added to open up additional room in the kids bath to allow for individual sinks to service the two bedrooms on the second floor. In the added room gained from the taking out a wall, and having moved the toilet from the master bath we were able to make a large his and hers vanity. With his and hers spacious behind the mirror medicine cabinets . The second amenity added was a walk in tile shower |
| | This project was a double addition to the Hit & Miss Trap Club in Weston Wisconsin. With some structural enhancements to allow for the entire finished building to be open concept. It's exterior is finished with a steel roof and vinyl siding. |

| | |
| --- | --- |
| | A very challenging project was this 1930's house a gem for its time. Built for a Dr. by the architects and builders of the Grand Theater hear in Wausau. It was originally stucco that had failed and had been covered in lateral boards some twenty seven years ago. The Idea was to restore the home to its distinctively modern look. The home was ahead of its time, with a two car heated and finished garage (and by finished I mean pine Vanier panels, a parka ceiling and crown molding), a fully finished basement with work room, and a full master suit were just a few of the ahead of its time amenities. |
views of the look of the house before. Pic from the first day showing the layers that had been put over the stucco.
The flat roof everyone thought was the major problem of this house but in fact it was the failed stucco, I had concerns about some spots and new we would have to do some structural repair. What we found though was far worse then could have been imagined or had ever seen before. Some 23 spots of major structural rot including about 20' of the sill plate the hose rests on, and some 25' of foundation falling apart.

As it turns out what we found the first gay was the worst of it and threw pure luck everything was repairable without any interior damage or remodeling.



The end product is fantastic and saves this unique and historic home, that even after 80 years has that modern look and a modern layout.

This distinctive round corner is the large open concept formal living room down and the spacious master up.
The stucco was applied by EDCO, of Hatley WI.
To insure that the final product would not be compromised by the flat roof it was foamed to form a seamless seal.

The final touch was to replace the old deck and ugly rail with a bit higher stucco wall and a field of Artificial turf Augusta Putt, and just in case someone wants to putt we took the drain and made a cup out of it.

| | |
| --- | --- |
| | This project was an addition and a bit of a remodel for the master suite that used the old living room space. We have designed and built from the ground up with just Elite's crew, save for the plumbing & electrical. |

| | |
| --- | --- |
| | This basement was basically one long room on more then one half of a long ranch style home. We took it and divided out a bed room on the end that already had windows available. This room is used as a craft room now. Then in the center, a service area divided with a partial division wall. To make for a feeling of openness yet also division a second harvest shelf/cubby unit that came out of a 1930's home (our McCarthy total rebuild project) was used. |
| | |
| --- | --- |
| | The size, pitch and complexity of this roof made it the most difficult and demanding re-roofing project that Elite has done . 50-year architectural shingles were used. |

In this project we took a late

50's early

60's home and turned it into a modern ranch.

With Wisconsin

P

ride

S

tone instead of brick and a new garage. Instead of the old overhang & deck we made a large deck in the rear with a three season screen room below. Windows were replaced and a large

four

panel French door provides light and access from the dining room to the new rear deck. The old garage will be turned into a large entertainment/family room in the coming year. We also designed a remodel plan for the kitchen modernizing & giving it a more open concept. Also in the remodel drawings

is

a Master suit

e

addition to give the master bedroom a full suit

e

with toilet closet, double sink base, walk

-

in shower and garden tub along with walk

-

in closet and dressing area. Since the master is on the second floor the addition will also afford a small shoehorned bath below to expand over time and also expand and open up more full windows into the lower office space.

This project was remodeling of a 95

-

year old home that had not been updated much at all. A new electrical service and replacing the 1915 knob and tube wiring as much as possible along with the rewiring of the remodeled rooms. Th

ere

were two baths

,

one was made into a master style bath with a steam shower that was finished in marble. The other was a bath enlarged for a 3/4 with shower and a vessel sink on an antique base. The water heater and all the piping was redone as the lead piping still existed along with cast steel drains. The kitchen was also completely gutted, several walls were moved or taken out. A second floor balcony off the home office was put in place of a window, the stairwell was opened up and a art class window was installed in the landing. The old Maple floors were redone, and venting for each room and a finally a new heater.

Family

room

/ Home theater finishing off one section of a basement area. Also added a few closets in the upstairs bath to separate the laundry and provide more storage for $25.00 per sq ft complete from foundation walls & cement floor.

Remodeling rooms into a true master suit

e

with toilet closet, open sinks, and a steam shower, walk

-

in closet and adjoining master den in this project . Many more pictures of this project can be found on page Photos V of this site.

New construction project to add on a

four

season room. Using form fold insulated foundation forms we created a crawl space storage room. An addition of this type affords an excellent opportunity to provide a huge amount of storage space. Ample windows to bring in the sun and a vaulted ceiling were the main wants in designing this addition. A great French door separates the rest of the home from the

four

season room. The home owner is going to be finishing the interior.

The design parameters for this project was to give the home a front entrance that was highly modern. The vaulting height and stucco does this nicely. The awning windows above the door operate remotely and at the touch of a button will open one by one until open. And in the event of rain they will close themselves. The project has so many levels of height in a small area that we used cement block for the foundation. The main framing of the outside is green

treated post and beam, with a hand framed roof. The entire thing was then wrapped in Dens glass before the application of stucco. A few other fe

a

t

ures

are the limestone caps on top of the walls of the porch, and Wausau Tile Tera-Stone for the Path, Landing and porch floor. It was also given low voltage lighting accents outside and can lighting inside.

We started with a clean slate in this basement drawing up a plan that opened up the stairway at the top and bottom. Framed in a large

F

amily

/

TV room with a service area and sink. Wired for sound system and ready for a dig screen. Also a small closet under steps, a large bath with tiled shower, bedroom with a

"c

ode required

"

large

egress

window and large walk

-

in closet

. L

astly a spare room with a futon to be used for guests, the rest of the time the spare room will house a treadmill with wall mounted TV and PC desk. This room was insulated for sound as was the bedroom.




| | |
| --- | --- |
| | Installing a pre-finished hardwood floor. If you want hardwood without all the dust, a good quality full 3/4" pre-finished floor is a good alternative to the traditional finish in place hardwood flooring. |

We moved the laundry in this

basement walkout style

Lake Wausau home

to make room for a large custom sauna, changing room, bathroom combo with a built in double shower. Also redid the family room and bar area, hallway and stairs. All in all

,

its a whole new basement that turned out just wonderfully.


A kitchen and bath complete remodel project. Starting with a new front door, rear door, and two sliding patio door

s and

new siding in the rear.
The color of the New Brazilian Cherry flooring, is brought out by the very detailed cabinets with a touch of antiquing.
Corian counters and a cool nook for a plasma TV helps blend the high tech of the

s

tainless appliances to the details of the cabinetry. Notice the bump out of the sink and the krypton Kitchler under cabinet lighting.
A very custom wet bar made to fit in the mission style, with a wonderful hammered sink and faucet
that

the home owner found on line, is perfect with the rest of the furniture of the formal living room.

We also had to re-fabricate the new cabinet in the bathroom to accommodate an angled wall. Neu-Heat electric in

-

floor heating, Corian

s

ink, Kohler bath tub, water closet, new faucets and tile completes this room.
Note the Runtal Hydronic Radiators, a giant step above the old technology of the st
andar

d hydronic base board systems. Shown in this project in white

,

it is available in a handful of designer colors. All new

satin nickel

knobs and hinges along with a few other perks finish out the project.



Complete basement remodel, moving & resizing the bathroom, installing a gas stove, adding some storage and setting up areas for

a

big screen and surround sound, and a bar.

This set of pics i

s

from a job Elite did in the early spring of 2000. We were asked to divide a large office bay to provide a small office for closings and a file

room. Elite did the entire job from design, permits, material, frame, drywall, paint, wallpaper, trim, lighting, to

finally

cleaning

of

the carpets

on

the last day.
The first in this series is a
"

before

"

pic and the rest are when we were on the way out the last day.

This is a basement that was block walls which were first sealed then studded and insulated. We then finished it out as a

"P

acker

"

room with custom drywall, paint and accents.

While we were building a deck at this job site we repaired one of the front columns that had rotted due to SPF wood

having

in

-

ground contact. The rest will have to be done over the next five years also.

This roof and the home in general

,

had major construction errors. Missing tar paper

&

flashing, ventilation, insulation, major framing errors ... We at this time replaced a patio door, all the skylights and refinished the interior drywall and put on the new roof. I think you will be amazed at what we found in this

nine

year old remodeled and

re

roofed home.

| | |
| --- | --- |
| | A smaller home and detached garage that we did in vinyl siding. |

| | |
| --- | --- |
| | 2012 roofing project, using a roof deck underlayment and architectural shingle. |

| | |
| --- | --- |
| | This was a roofing job and we built a new steps up to the porch also. |

A very difficult and demanding project to remove an old hot tub suspended over an abandoned in ground pool. This in

-

ground pool was used for the crawl space of an addition and was lacking proper support and footing

s

. We built real support walls and added proper footings. We also ran a cold air duct to the fireplaces for combustion air from an abandoned spa heater stack.

The final

project for

the room was the installation of a floating wood floor.

This bathroom was in

much

need

of

repair when we started, the built

-

in shower was rotting, the floor and the tile was cracked. Demolition was extensive, right down to the studs and in some parts of the floor down to the dirt below. An all new interior with a new built

-

in shower, cabinets, tile and all the little things. Such as new mirrors, a mirror door to the sauna, pewter facets, pewter knobs and hinges throughout, pewter and crystal lights, in floor heat, a knee wall to hide the water closet and more make this a bathroom of outstanding quality.


Elite

'

s office floor used to be carpet so we gutted it and put in tile making it much eas

i

er to zoom the chair around.

| | |
| --- | --- |
| | This next project was quite an extensive interior remodeling, involving the electrical, heat, new walls, texture, flooring and a new fireplace.... |
The fireplace, in addition to being dated, had a chimney fire burning wood. It had cracked the flue and burned through. Some point after that, it must have been thought to be safe for gas. Converted to a gas fireplace with a burning grate stuffed in. However, still using the old chase and flue
,

it was not the safest fireplace in the neighborhood.
We also built in an old
-f

fashioned Murphy

B

ed

,

not seen much outside

I Love

Lucy and Three Stooges reruns. A fantastic addition to this room

,

offering

the flexibility to be used as a guest room without the bad nights sleep for the guest that

usually

comes from

a

traditional sofa bed.
Another feature is the dry bar with wine storage and mini fridge stowed in an Elite
-

built cabinet base.
The closet at the base of the stairs is a pantry and the extended closet space under the stairs is for some much needed storage.



A smaller home from the 60

'

s or so

,

with a one car wide garage that ran the length of the home. We gutted the old rock lath and plaster that was used in the garage

,

install

ed

a floor, insulate

d

and drywall, with new windows and doors to make a family room/dining addition. Then bui

lt

onto the old structure a new two care garage.

Also a new concrete drive.
Before:

In Progress:
After:

| | |
| --- | --- |
| | Installing a new hardwood 3/4" strip floor and new tile in the kitchen is the next series. |

This next project was to reface a kitchen that had

unre

movable wall paper. The hardboard panels were used to tie this kitchen over until i

t

needs all new everything.

Plus a coat of paint on the ceiling and hallway walls to finish it up.

In this project

we

re/engineer

ed

and repair

ed

the previous remodeling to make the structure sound for a corner addition. An entry way had been added at some point with a roof that did not have a proper slope, support or valley. We opened that up and added a angle wall to make room for the Master bath. The old bath and walk-in closet were incorporated with a new angled hall of the master bedroom to make it

into

a master suite. Featuring glass block windows and lighted glass block toe kick

, also

used as a highlight under the Jacuzzi tub and custom cabinets.
Then later we were back to add on to the front with a two car garage, redo the interior dinning and kitchen with 3/4 Hardwood flooring, made a patio front entrance, walks around the front and a Tera-lok patio and steps out back.
More interior picks to come!

Redoing a basement room that was poorly done in 1060's style. The room turned out great with three large closets and a built

-

in drawer unit.
The usable room left is about 14x 22
,

a large room.

Opened up

the

roof and installed skylights to come out between the exposed beams on the ceiling of this house. Having this set space for width made the shaft very segmented as you can see in the pic from inside. We also found the attic space had far less insulation then it would today

,

so we took it up to code before we closed it back in.

I've seen some incompetence in my day

,

but this ....... We were asked to take a look and fix a leek in a roof that had been re-roofed just

the

year previous

. The roofer who

had done the work had tried

unsuccessfully

to fix with a stop gap.
As soon as we started to t
ear

back the shingles we could see problems. When the old shingles were taken off

,

the roofer did not bother to reinstall new tar paper, never mind the ice and water shielding for the eaves, valleys and flashings.
He had re
-

stapled back the tar paper that was torn during demolition. Problem being around the chimney

-

in the old days they used allot of tar and the paper must of come up with

the shingles A

s you see

,

there was virtually no tar paper

left

around the chimney.
Then to make maters worse the old flashing was put back down over the top of what remained of the tar paper and then
flashed with

just the shingle from above was over the top of the flashing.
The fix was easy, we cleaned up the flashing, put down ice and water shielding, and roofed the area using the proper methods to have several layers safeguarding the water on top of each successive layer of roofing.

In this project we took out the stairs in the middle of the home along with a division wall. The wall was replaced with an arch, and the stairway was moved to the front of the home. We then took out a wall by the front door to provide flow to the home. Also a downstairs wall was removed and a large LVL and post was put in to make the basement

"

open concept

"

also. We finished up by installing oak stair railing.
The home owners are to be finishing up the basement the next winter, and a flooring contractor is to be redoing the upstairs flooring.

A roofing project, tearing off

,

cover with tri-flex, eave guard (ice & water), new flashings, vents, and new simulated shake shingles.

| | |
| --- | --- |
| | A hip roof roofing project otherwise done the same as above. |